I made some tags for all the things I've been sewing lately, and it was super easy, so I wanted to share in case anyone else would like to do it.
I bought some printable fabric (I think you can make your own using freezer paper, but I've not tried) I bought Sew-In Computer printer fabric by Tailor because it was the cheapest. I got 4 sheets for 5.99 but used a 40% off coupon from Hobby Lobby. Not the kind that you iron on, but that you print directly on.
Then I used Microsoft Publisher (Love that program!) and started a custom page 1.5"x.5" and removed the margins. Then I just made the design that I wanted, which was something basic and simple that would go with anything I put it on.
When you go to print them, set it to print multiple pages per sheet, but be sure to add a little space where it says "horizontal gap" and "vertical gap". This will make it much easier to cut out. I didn't leave a lot of space, but just enough to make cutting easier. I was able to make 80 tags on one sheet of printable fabric!
Be sure and check how to treat your fabric so that the ink is set. The brand I got can't be washed, but it works for me for now. I just had to iron mine on high heat without steam. Then I cut them out and put fray stop around the edges. If you skip this you won't have a tag after a little while because the stuff frays pretty quickly.
Let the fray stop dry about 15-30 minutes and start attaching your tags to everything you make! :)
Linking to: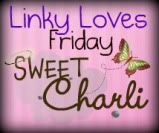 "